Octodad's Path to Popularity
It's probably not a stretch to say that the first Octodad became popular for two major reasons: it was quirky and it was free.  But aside from that, it's interesting to take a look at what has really helped push us into the spotlight over the past couple of years since our release on October 31, 2010.  (As a disclaimer, I tried not to accidentally leave out key people who have helped us, but I apologize if I did!)
---
2010
Gaming Blogs / News
The first explosion came from sites like Kotaku, Rock Paper Shotgun, and Joystiq around November 12th which recommended playing the game after hearing about it through indiegames.com.  Of course, it helped that we had a trailer with a catchy song and pitch, and that the game was free to download on our website.  What we couldn't have predicted was that we later had a boost from Ctrl+Alt+Del comic on November 29th/30th that, by itself, was more than the combined hits from game news sites.  A bit later we had a substantially sized bump from comic-site VGCats (December 9th), as well.  Later on, we were even featured on X-Play's "Games for Cheap Bastards".
2011
Independent Games Festival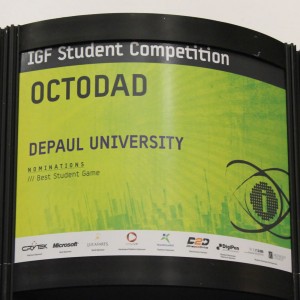 There was a small increase in traffic when the student finalists were announced for the IGF on January 10th, 2011, but that only added about 1000 visits per day for a couple days (doubling our average traffic).  From then, our traffic started to dwindle a bit.  It was great to get that validation from being in the Student Showcase, but interestingly enough it didn't play a substantial part in helping get the word out about Octodad.  There was even less of a boost during the actual conference.
The Bohle Marketing Company
DePaul had hired a marketing company to help promote the game through traditional outlets, including helping to send out press releases.  It's hard to say the impact of their reach, but at the very least it helped get word out in a professional manner.  Additionally, they pointed different journalists to us, getting some different conversations going that we might otherwise had missed.  It was primarily used to help promote DePaul as a university, but it was mutually beneficial to everyone.
Website
We started regularly providing content a bit before our Kickstarter in order to drum up a regular schedule of information to fans.  Since then, we've tried a few things to give some variety and to see if any particular thing stuck, such as comics and our store, but we soon realized that without putting in huge amounts of effort, they weren't going to be a huge draw.  We decided it was best to try to put out content regularly without sacrificing time away from development on the game.
Kickstarter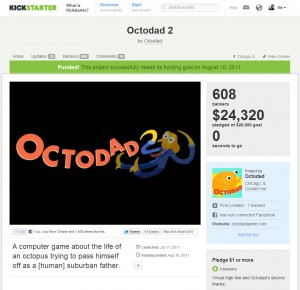 Before we had launched our Kickstarter on July 11th, 2011, the website traffic had dipped to the lowest average level it has been in its history.  We got a pretty big boost of traffic from people viewing our Kickstarter and, in a way, marked our first real kickoff towards building a community around the game in development.  I think that our efforts to double-down on Octodad as a commercial endeavor let other people take notice that we were serious about making this game.
Twitter/Facebook
The activity on social media (Thanks Phil!) has kept our fans up to date with development and helps us keep a conversation with them.  Talking with other indies and cross promoting each others' work has been extremely helpful for the community and another key reason for the growth of our own popularity.  Additionally, twitter 'superstars' like Notch have been an integral part in helping us complete our Kickstarter and Steam Greenlight campaigns successfully by retweeting our tweets to their followers.
YouTube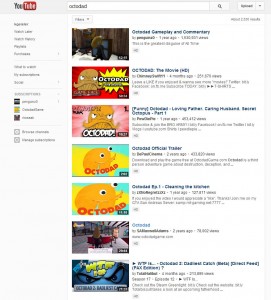 Right after the start of our Kickstarter campaign, an unrelated video playthrough of Octodad 1 by YouTuber 'Cr1tikal' exploded in popularity and quickly became the top-viewed Octodad video even today.  It introduced the series to tons of new people and helped boost our overall average traffic, despite not hotlinking to our site.
Since then, we've had many more "Let's Play" videos, with nearly 2000 results for "octodad game" on YouTube.  It's safe to say that YouTube has been a huge boon to our popularity and is something that we would have never predicted.  Collectively, Octodad videos are probably over 6,000,000 views.  Some of the top performers:
Top YouTubers:
Cr1tikal – 1.5 million – http://www.youtube.com/watch?v=–PPzO7PRMc
MangelRogel – 1.125 million (series) – http://www.youtube.com/watch?v=1wLyQvv8KGE
PewDiePie – 1.1 million (series) – http://www.youtube.com/watch?v=IJIOEj5ezaQ
zXNoRegretzzXz – 350,000 (series) – http://www.youtube.com/watch?v=AAzL8pS5DpA
SeaNanners – 310,000 – http://www.youtube.com/watch?v=sDTqjkUeQMA
ChimneySwift11 – 235,000 – http://www.youtube.com/watch?v=Z_HF0U03Sok
TotalBiscuit – 200,000 – http://www.youtube.com/watch?v=C9nIkSn9ouc
OMFGcata – 200,000 – http://www.youtube.com/watch?v=256gO4uR4yw
YogscastSips – 120,000 – http://www.youtube.com/watch?v=f4KJTS3bYIs
Our Videos:
Octodad Official Trailer – 430,000 – http://www.youtube.com/watch?v=lVoSYDWX2Ig
Octodad: Dadliest Catch – Teaser Trailer – 130,000 – http://www.youtube.com/watch?v=03rP_O2k8XM
Octodad: Dadliest Catch – Glitch Trailer – 80,000 – http://www.youtube.com/watch?v=VHiZR_Z4w-s
Reddit
The thing with reddit is that we don't ever get 'top page' posts regarding Octodad directly, but we've had a few posts that garner quite a few hits:  http://www.reddit.com/r/gaming/comments/10osch/suspicous_octodad/
Additionally, we've ended up getting tons of upvotes and referrals when people just suggest Octodad in threads looking for free games or weird games, or practically whenever QWOP is mentioned (and just yesterday, Surgeon Simulator 2013).  So it seems like the comments section of reddit has been more beneficial to Octodad than topic voters.
2012
Official Trailers & 'Dadliest Catch' Announcement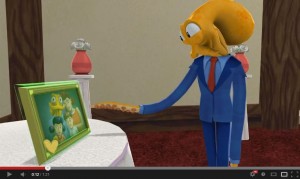 Our teaser trailer in January did a fair bit to tell people we had come a long way from our Kickstarter.  It was our first reveal of the title "Dadliest Catch" and included our new theme song, both of which were the biggest takeaways for people.  It also introduced our new artstyle in a way that helped separate us from the amateur efforts of the first game.  It currently has about 130,000 views.  Additionally, we released a 'glitch' trailer that currently sits at about 80,000 views.  This video got passed around on sites different from the teaser trailer and became more popular than we expected.
PAX Prime

Us being at PAX allowed us to achieve quite a few goals.  We were able to test the game with players, get new eyes on the game, and show off the game to press and other interested parties.  We created a gameplay trailer to help show off the game since describing the game without people seeing it can be a bit tough.  Additionally, YouTuber TotalBiscuit did a preview of the game which quickly became popular.  A fun thing to see while we were there was the number of incidents where people would play the game, leave, and then bring back several friends to come play.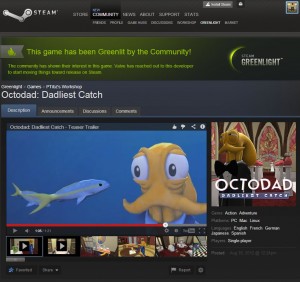 We launched our Greenlight campaign (Valve's recent method of picking titles to sell on Steam) during PAX and were able to get high up in the ranks relatively quickly.  It helped tremendously that we had a teaser trailer, screenshots, and a great description put up quick enough to catch the initial wave of interest from steam users.  It's hard to say, but I think Steam allowed us to get tons of new people to see Octodad for the first time.  We're currently at 167,000 unique visitors.
Overview
Top Web Referrals: (as of Jan 13, 2012)
| | | |
| --- | --- | --- |
| 1 | google | 258,225 |
| 2 | (direct) | 93,168 |
| 3 | youtube.com | 81,457 |
| 4 | facebook.com | 22,553 |
| 5 | cad-comic.com | 18,473 |
| 6 | vgcats.com | 13,361 |
| 7 | reddit.com | 10,142 |
| 8 | rockpapershotgun.com | 9,386 |
| 9 | bing | 7,666 |
| 10 | stumbleupon.com | 7,403 |
| 11 | indiegames.com | 5,060 |
| 12 | kotaku.com | 4,990 |
| 13 | yahoo | 4,450 |
| 14 | gameranx.com | 4,294 |
| 15 | twitter | 3,942 |
| 16 | tigsource.com | 3,870 |
| 17 | igf.com | 3,137 |
| 18 | joystiq.com | 2,926 |
| 19 | boards.endoftheinter.net | 2,491 |
| 20 | nofrag.com | 2,202 |
| 21 | kickstarter.com | 2,184 |
| 22 | g4tv.com | 2,183 |
| 23 | twitter.com | 2,106 |
| 24 | metafilter.com | 2,105 |
| 25 | pcgamer.com | 1,973 |
Traffic & Sources Over Time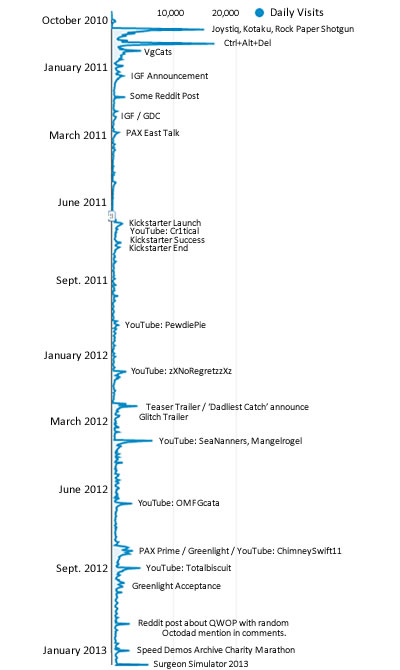 Lessons Learned
We learned that news sites are huge for first learning about us, but YouTube personalities have really driven up our viewers over time as of late.  What is interesting to note is how little the actual IGF and GDC event did for us traffic-wise, given that our entire goal for Octodad 1 was to enter the IGF student competition.  I think the best news from all this is that our average traffic has been trending upwards, meaning something must be going right to keep people interested in us and our development.
In some ways, these lessons have helped guide our development for Dadliest Catch, to make what is generally a solitary single-player experience fun to share with other people.  And certainly, the fact that people continue to be interested in us motivates us to make this the best game we possibly can. ᴥ