We can rebuild him. We have the technology.
Aside from tending to our recent Kickstarter campaign, we've been building up our tech to prepare us better for development on Octodad 2.  With the original game, we had just three months from the start of production to push out a release, leaving little time to polish all we would have liked.  Now that we have a bit more breathing room for Octodad 2, we figured we'd spend more time in preproduction to build up a strong foundation.  For instance…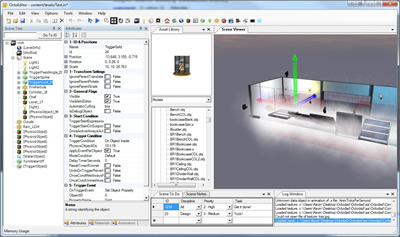 Improved Controls
When people talk about Octodad, the first thing they usually mention is something about the controls– awkward, frustrating, difficult, crazy.  Certainly our goal was to create a unique experience around the control scheme, but we think we can really improve the feedback and provide less frustration while still keeping a high level of wackiness.  For instance, we've done a lot to change arm movements so that it's more responsive and better with throwing.  Throwing of course being necessary so that Octodad can finally play catch with Tommy without giving him a black eye or breaking a window.
Physics Upgrade
While we're using a lot of code from the original as a base, we figured now would be as good a time as ever to upgrade to PhysX 3.0 to be set for future development.  We've learned a lot from the first round on what works well in the environment and what ends up wreaking havoc for gameplay.  Octodad's body is now more solidly built in order to better interact with the other objects in the level.  But don't worry; he still maintains his wobbly posture.
Cameras
The original game didn't have quite the camera system that we would have liked.  Nobody likes fiddling around with a manual camera, so we've taken it upon ourselves to add more automated control to better guide players.  Not to mention the cinematic possibilities.  In fact, our prototype animated cameras are currently able to evoke strong emotions* even in completely empty scenes.
* Strong emotions may actually be confusion.
Editor
The increase in efficiency in our production pipeline probably comes from the fact that we've built a new editor from the ground up.  Things like having undo and being able to play in editor is already making it tons easier to iterate on content.  Gameplay is also being expanded quite a bit with new functionality exposed for the designers to mess around with.  I wonder if fans will want to someday make their own custom levels?
Save System
We've been working on making a much more expansive save system so that players are no longer left in the dark as to when their progress is saved.  In addition, we'll be saving after completed objectives rather than having to start the entire level over again.  We're hoping that this lets players feel more adventurous when they play with less worry that they'll lose everything.
Graphics & Animation
Octodad has a natural affinity towards water for some reason and we plan to showcase that a lot in Octodad 2.  We've been working on improving our graphics fidelity by implementing water shaders and better particle effects, as well as some major lighting changes.  Ultimately, it's all to complement our new art style, which we're pretty excited about.  That reveal, however, is being saved for a future date. :)
– Kevin G.
Tags In