Octodad: Dadliest Catch is a physics-based comedy adventure game created by Chicago indie studio Young Horses.  It is the commercial successor to the student game "Octodad", one of the Student Showcase winners of the 2011 Independent Games Festival.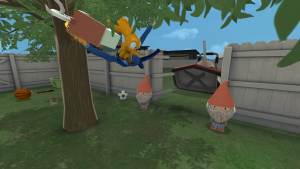 The player controls Octodad, a dapper octopus masquerading as a human, as he goes about his life. Octodad's existence is a constant struggle, as he must master mundane tasks with
his unwieldy boneless tentacles while simultaneously keeping his cephalopodan nature a secret from his human family.

Read more